WELCOME TO THE SECOND ANNUAL VANSTERDAM GANJA GAMES AND MARIJUANA BOWL
======================================
CANCELLED CANCELLED CANCELLED
THE 2010 VANSTERDAM GANJA GAMES HAS BEEN CANCELLED.
WE WILL BE PUTTING ON A SMALLER 2-DAY EVENT IN AUGUST FOR A LOWER COST.
CHECK BACK HERE IN EARLY JULY FOR DETAILS ON THE AUGUST EVENT.
WE APOLOGIZE FOR ANY INCONVENIENCE.
======================================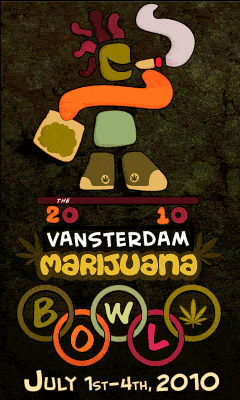 July 1-4, 2010
Only 50 tickets are available for this very special event.
The four day event goes from Thursday July 1 to Sunday July 4.
Events include:
Bus tour of Vancouver's best toking spots.
Boat cruise around the Vancouver coast.
Hash and Budder sampling session
Judging of 14 strains of fine marijuana
Competition in 6 fun ganja games
Party and dinner every one of the four nights.
Join in with Vancouver's huge Cannabis Day celebrations!
And much more...
See the winning strains from the 2009 Marijuana Bowl